January 26th, 2021
Finding this quite curious and coincidental, we performed research into the origins of the brick. Below is what we learned about SAGE Brick Manufacturing Co. and this interesting piece of history.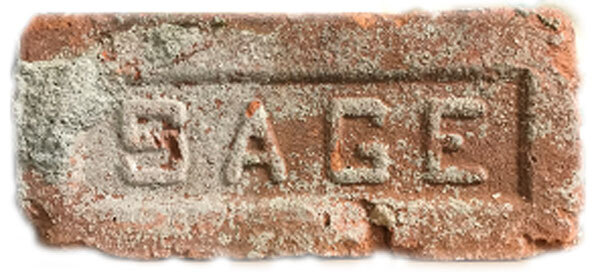 Greenport (Southold) (Arshamomaque), NY (1887-1938)
[Left] De Witt Clinton Sage came from making a fortune through many business ventures and operating a brickyard on Fishers Island to establishing Sage Brickworks in greater Greenport in 1887. The business soon employed over 200 men whose wives and children also labored at the works. A combination of forces, including an economic downturn and salt water intrusion from the Hurricane of 1938, helped to end brick-making on eastern Long Island. [Right] This chimney at the SAGE Brickyard was well known to sailors. Until the hurricane of 1938 destroyed the clay beds, the yard provided jobs for Irish, Scottish and Italian immigrants. (Photos from The Peconic Bay Shopper, Preserving Local History)
It may be little known that the one of the most significant exports from Fishers Island during the mid to late 1800s was high quality bricks. The exact date of discovery of the vast clay deposits on Fishers Island is unknown, however, prior to the 1800s, the clay deposits possessed many evidences that bricks and other items were made throughout the history of the island. The first identifiable brick on the island, however, was crafted by Eugene Strickland but it was not until the arrival of the prominent Connecticut businessman, DeWitt Clinton Sage, that the clays of Fishers Island were memorialized in New England architecture and municipal projects.
DeWitt Clinton Sage was born in Middletown, Connecticut in 1837 to Barzella and Elizabeth Sage. He learned the brick making business at an early age working as an apprentice to his father. When he was sixteen years old his father died, leaving him to manage the developing brick making business.
Sage's solid experience and business sense rapidly catapulted brick making on the island to a tremendous scale. Fishers Island bricks were of superior quality and were sought after to comprise the exterior of many accomplished buildings and projects. The City of New York ordered 25,000,000 bricks for a new aqueduct to supply water to the population. Interestingly, the clay deposits on Fishers Island were vast and in some areas occurred to a depth of 40 feet.
The Long Island Brick Co. was in operation until 1938 when a hurricane flooded the clay banks. The 180 acres of land near Greenport where the brickyard was located is now occupied by Brick Cove Marina, and the cottages where the workers lived remain, in an area now called Breezy Shores.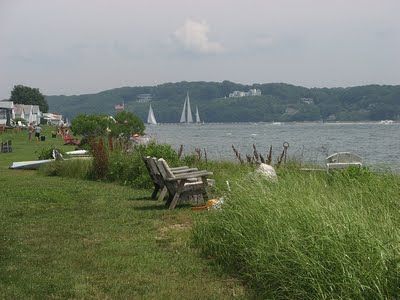 Breezy Shores, Long Island
Photo courtesy of http://blipadee.blogspot.com/2011/07/i-love-breezy-shores.html