July 26th, 2022
On June 10th and 11th, members of SAGE took place in Meeting Street School's Annual Fishing for a Cause Tournament off the coast of Massachusetts and Rhode Island. The event is a "catch and release" tournament that raises money for the Schwartz School, a private school for students with special needs. Tournament rules included measuring all fish with a tape measure and photographing then quickly reviving and releasing to fight another day.
SAGE's Steve Ferro, JeffreyD'Arrigo, Mike Gagne and acquaintance of SAGE, Jay Stevens, fished off the coast of Westport, MA for striped bass, blue fish, sea bass and fluke. On day 1, facing rough waters for the small 16 foot craft, the guys from SAGE were still able to find the fish. About 30 minutes into fishing, Jay hooked on to what would be the largest bluefish of the day, only to be beaten on day 2 by SAGE's Mike Gagne. Increasing wind and waves forced the crew to fish in the harbor the rest of the day, but they were still able to catch and release a handful of fish.
With calmer seas on day 2, the crew ventured past where they caught the blues the day before. It wasn't long before stripers were seen rising to the surface, and lines deployed.  Like clockwork, the fish started hitting. For the next couple of hours, the fishing was a steady pick with a fish on every 5 or 10 minutes, with Mike catching a 29.5" bluefish that would go on to take first place in the bluefish category. The fishing started to slow down at that point, until line started peeling off the trolling rod. At first, it was thought that the line got stuck on the bottom, but as Jeff started reeling, he knew it was a solid fish. After a spirited battle, Jeff eased a 39.5" striper alongside the boat which was big enough to take second place in the tournament. From there it was on to the seaside diner and award ceremony, where SAGE had sponsored a table.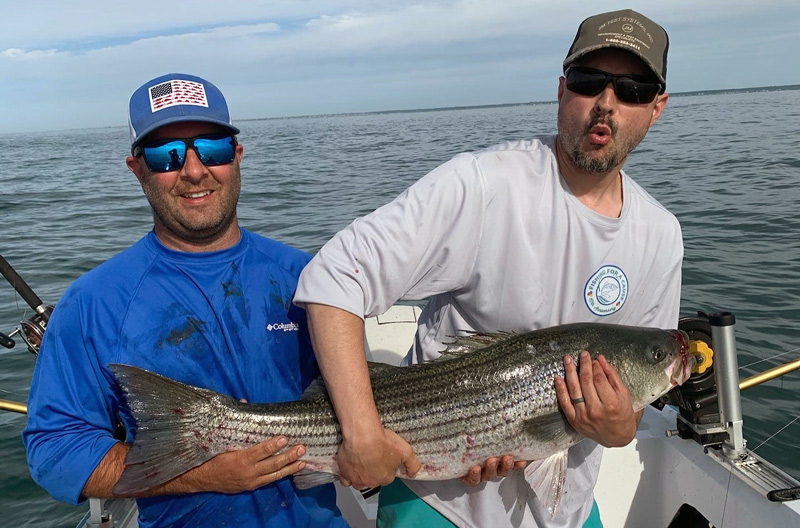 In all, it was a great 2 days of fishing that supported a great cause, and all fish caught were released unharmed back into the ocean. The SAGE team looks forward to the Meeting Street School tournament next year and will be on the hunt for the first place striped bass.