July 13th, 2018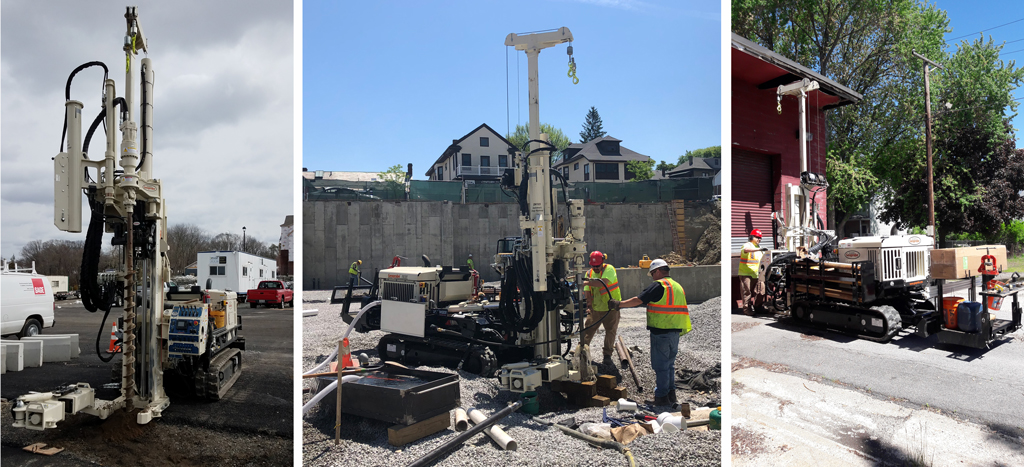 SAGE recently purchased a state-of-the art Geoprobe® Model 7822DT Direct Push® & Rotary Drill Rig to better service its clients' environmental, remediation, geotechnical and construction drilling needs. The Geoprobe® Model 7822DT is a high-capacity, direct push machine. Its size allows for work in limited access areas on environmental, geotechnical, or exploration projects. Because of its flexibility, rotary drilling is just one of the applications suitable for the 7822DT. Conventional PVC wells or prepacked screen monitoring wells can also be installed through driven 2.25-, 3.25-, 3.5-, or 3.75-inch casing.
Maneuverability and easy probe placement make the 7822 ideal for working inside hard-to-reach/limited access areas and for sampling next to or near foundations. The built-in oscillation feature provides an easy setup on sites with rough terrain, uneven slopes, or hills. The machine remains stable while the field operator aligns the probe cylinder and tool string on a straight path into the subsurface.
The power of the 7822 Series machine and integrated augerhead allows for efficient well installation and other environmental and geotechnical investigations via turning hollow stem augers. Rotary drilling is accomplished using a high torque (4,000 ft. lb.) augerhead integrated onto a swing-out mounting system. The compact drill head provides flexibility for drilling jobs varying from torquing-in hollow stem augers to high-speed rock coring applications.
Overhead hydraulic winches include a 2,500-lb. winch for extraction of tooling in difficult pulling situations and an 1,100-lb. winch for the faster, deeper tooling extraction. Quick-change hook and overshot clevis allow for quick transition from pulling to coring, making the transition quick and simple, and can all be done by hand.
Geotechnical investigations are completed using the automatic drop hammer for performing SPT testing. Borings for SPT testing can be advanced by augering, driving casing and sampling, or wash boring.
SAGE's drill rig is complimented by a GP300 Injection Machine, which is designed to inject remediation materials or for bottom-up grouting through small diameter probe holes. The injection machine is also capable of delivering standard ASTM grout mixes and can provide operating pressures up to 1,300 psi with a maximum flow rate of 5 gpm.
For more information, contact Tom Saccoccio at (401) 723-9900 ext. 110 or [email protected].