March 19th, 2018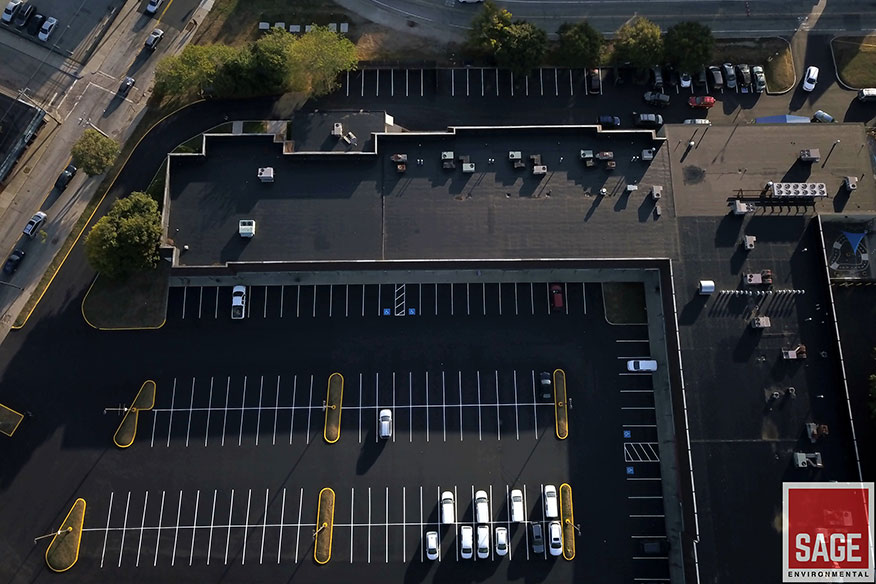 Aerial view of completed capping activities (photo via drone)
In early 2017, Peregrine Property Management LLC retained SAGE to perform remedial activities at a retail shopping plaza located in Providence, RI. Environmental assessments by SAGE indicated that a natural gas manufacturing plant was present on the property from the early 1900's until the 1980's, and that a portion of the parcel had been utilized as a solid waste landfill during the 1960's-1970's. The existing retail structure had been built in 1986, and subsurface investigations conducted in 2015-2016 had identified moderate property-wide impacts to soil by petroleum-related compounds.
Working with the Rhode Island Department of Environmental Management (RIDEM) and the property owner, SAGE developed a scope of remedial alternatives that would protect the general public from potential exposures to property contaminants while being cost-effective to the property owner. Remedial activities included repaving (i.e., capping) of the property's parking lot, implementation of engineered barriers at landscaped areas around the property, and the installation of a fence surrounding a particularly steep landscaped area that was deemed infeasible to implement other engineered barriers. An Environmental Land Use Restriction (ELUR) was also recorded with the City of Providence Registry of Deeds to restrict future exposure to subsurface contaminants. A Letter of Compliance, indicating that the property is in compliance with RIDEM's Remediation Regulations, was issued by RIDEM in November 2017.
One of the challenges SAGE faced with this project was developing a remedy that could be implemented in a short time-frame, be cost-effective to the property owner, and adequately prevent exposure of property contaminants to the general public. SAGE worked with Kevin Clyne of KCI to meet this goal by maintaining an arsenal of unusual equipment and providing much of the labor in-house, which reduced costs by removing the need for excess subcontracted work while still providing quality work.