October 28th, 2019
A great time was had by all during SAGE's team building event held on October 18th at our Pawtucket, RI location! The staff enjoyed featured beverages from our local brewery clients, Grey Sail, Isle Brewers Guild, and Narragansett Brewery. In celebration, the Oktoberfest-themed event included three traditional Oktoberfest games: Hammerschlagen, Axe Throwing, and Stein Holding.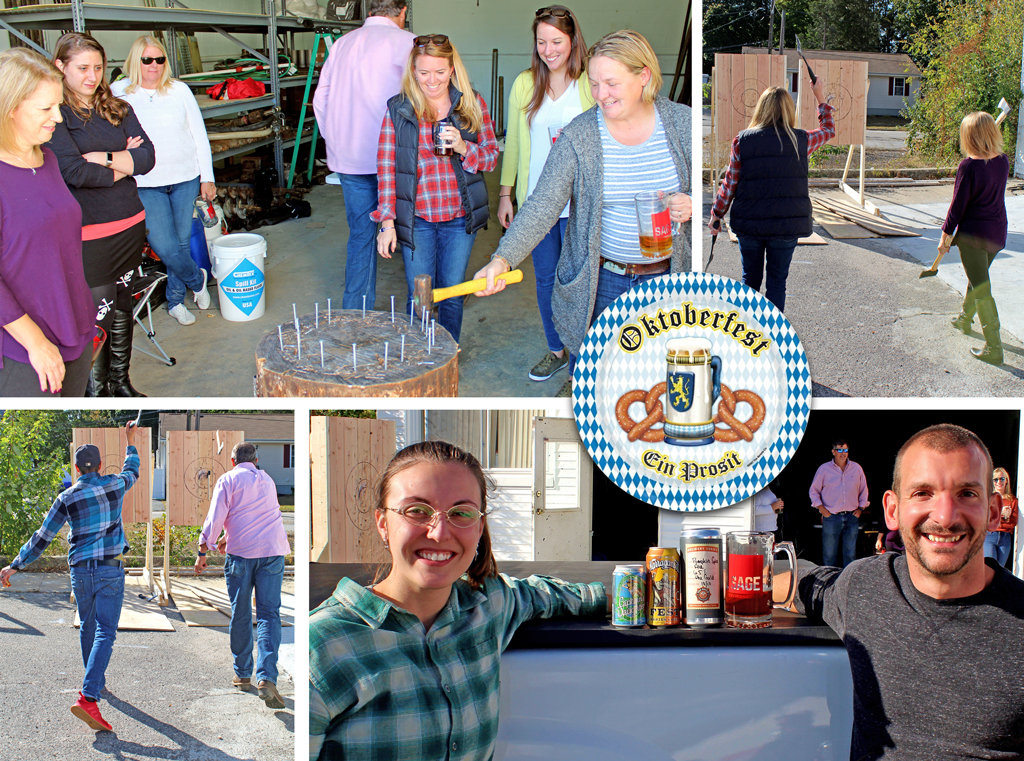 Hammerschlagen is a game of skill where each player takes turns at hitting their designated nail into a stump. This task is made even more difficult by using the pointy end of the hammer in one continuous motion until the nail is flush with the stump's surface. Jamie Barberi defeated 12 other participants to take the title of Hammerschlagen Champion. Congratulations Jamie!
In Axe Throwing, teams of two competed against each other to accumulate 10 Points first. The bullseye was considered 3 points, outer ring 2 points and simply sticking the axe in the target was worth a single point. The victorious axe throwing team members were Jeff D'Arrigo and Korie Nichols. Congratulations Jeff and Korie!

Stein Holding is a traditional Bavarian strength contest where each participant holds a full stein parallel to the ground at shoulder height with a locked-out/straight elbow. The winner is the last remaining person with a full stein at shoulder height. Steins were filled with beer brewed by SAGE clients Grey Sail Brewing of Westerly, Isle Brewers Guild of Pawtucket, and Narragansett Brewing Company of Cranston. Deidre Martin won the competition holding her stein for 4 minutes 25 seconds. Congratulations Deidre!
Team building events are held several times per year to allow employees the opportunity to interact with one another in non-work-related scenarios, enabling us to get to know each other better, communicate more effectively and in turn, build a closer and stronger team to effectively and efficiently work together. Not to mention creating a healthy and fun competitive environment!
Past team building events have included indoor kart racing; corn hole tournaments; paint ball; and barbeques with ladder ball and frisbee can jam competitions.